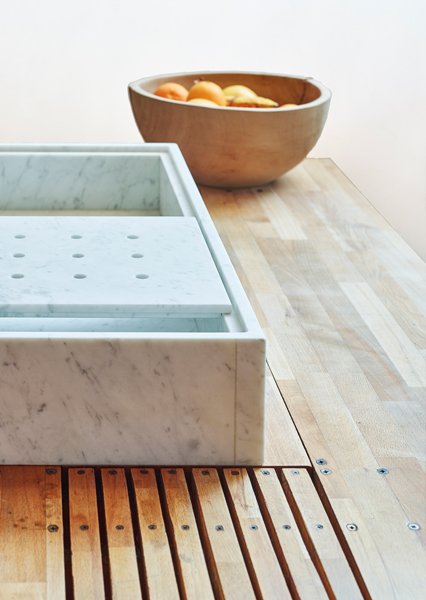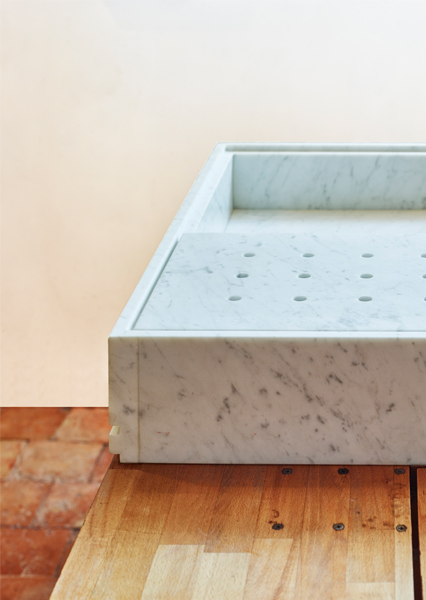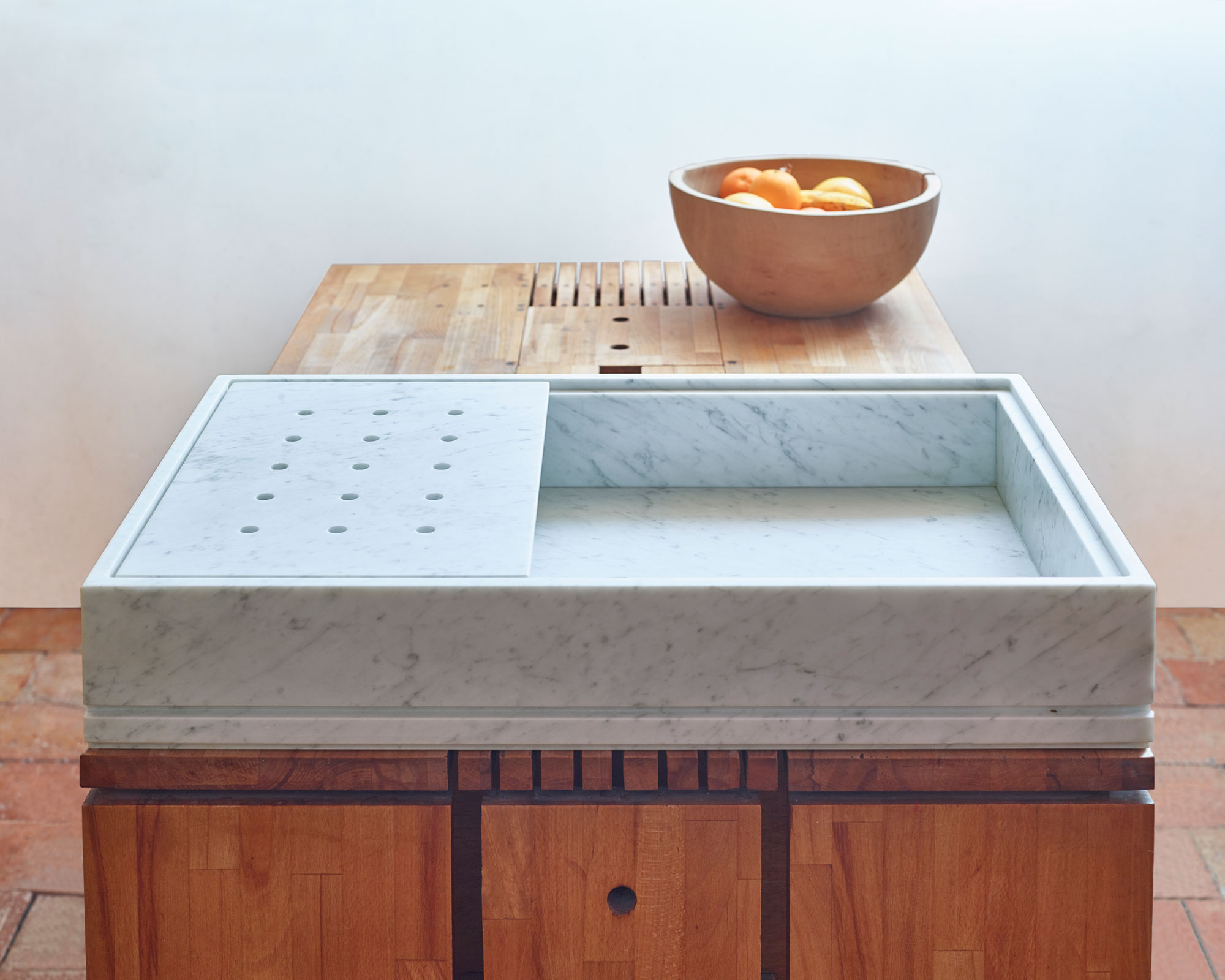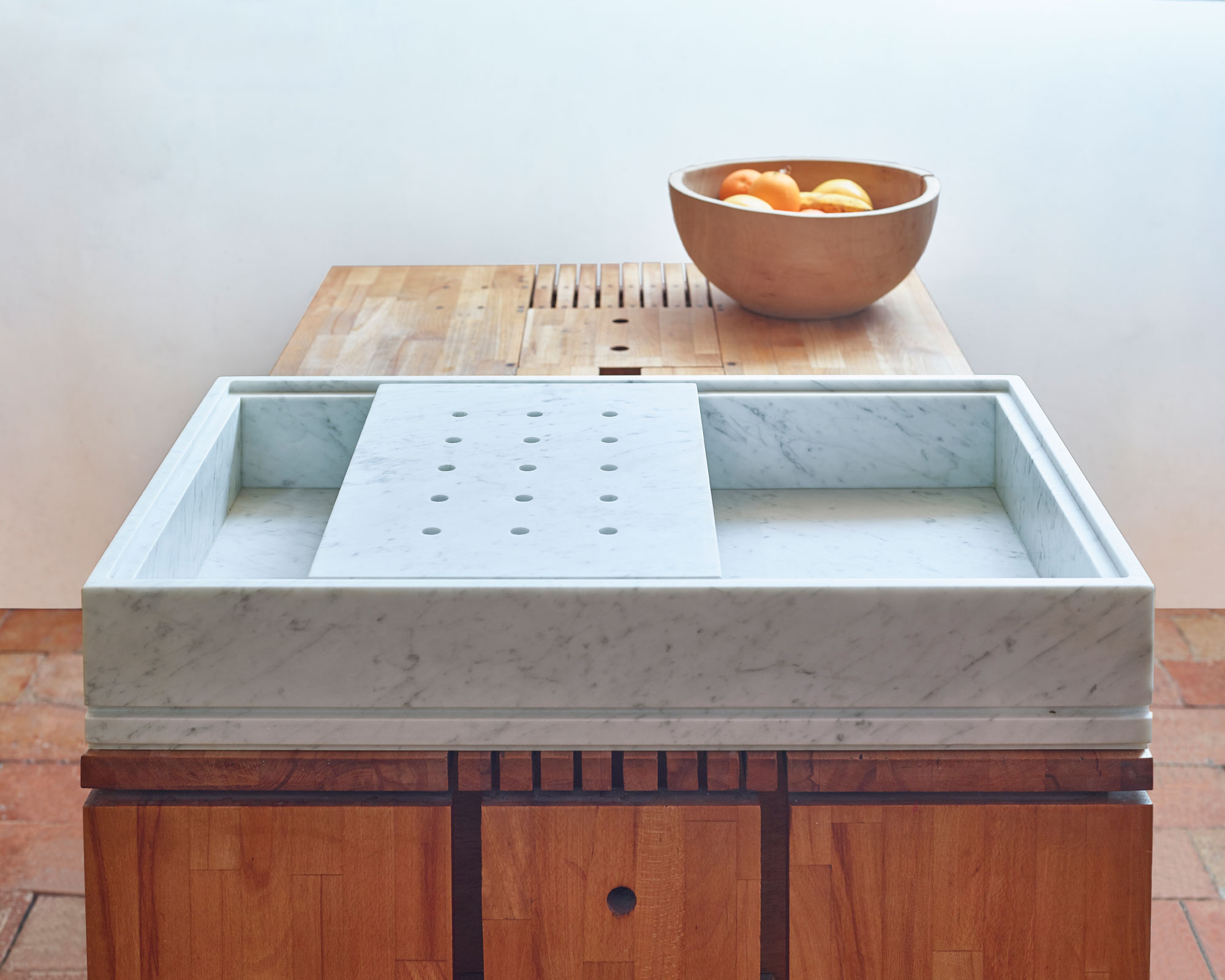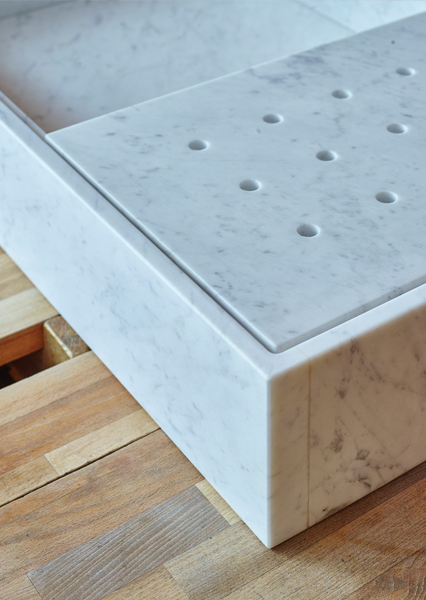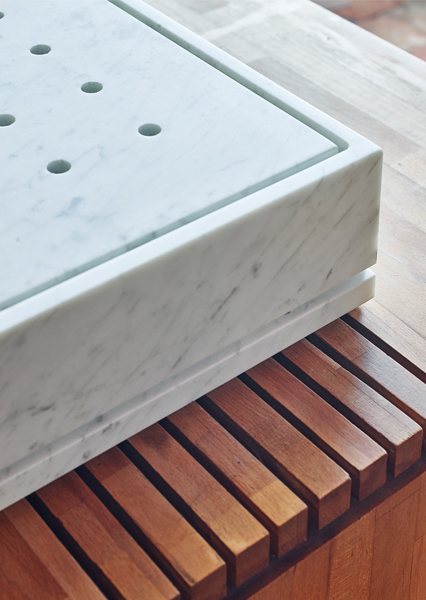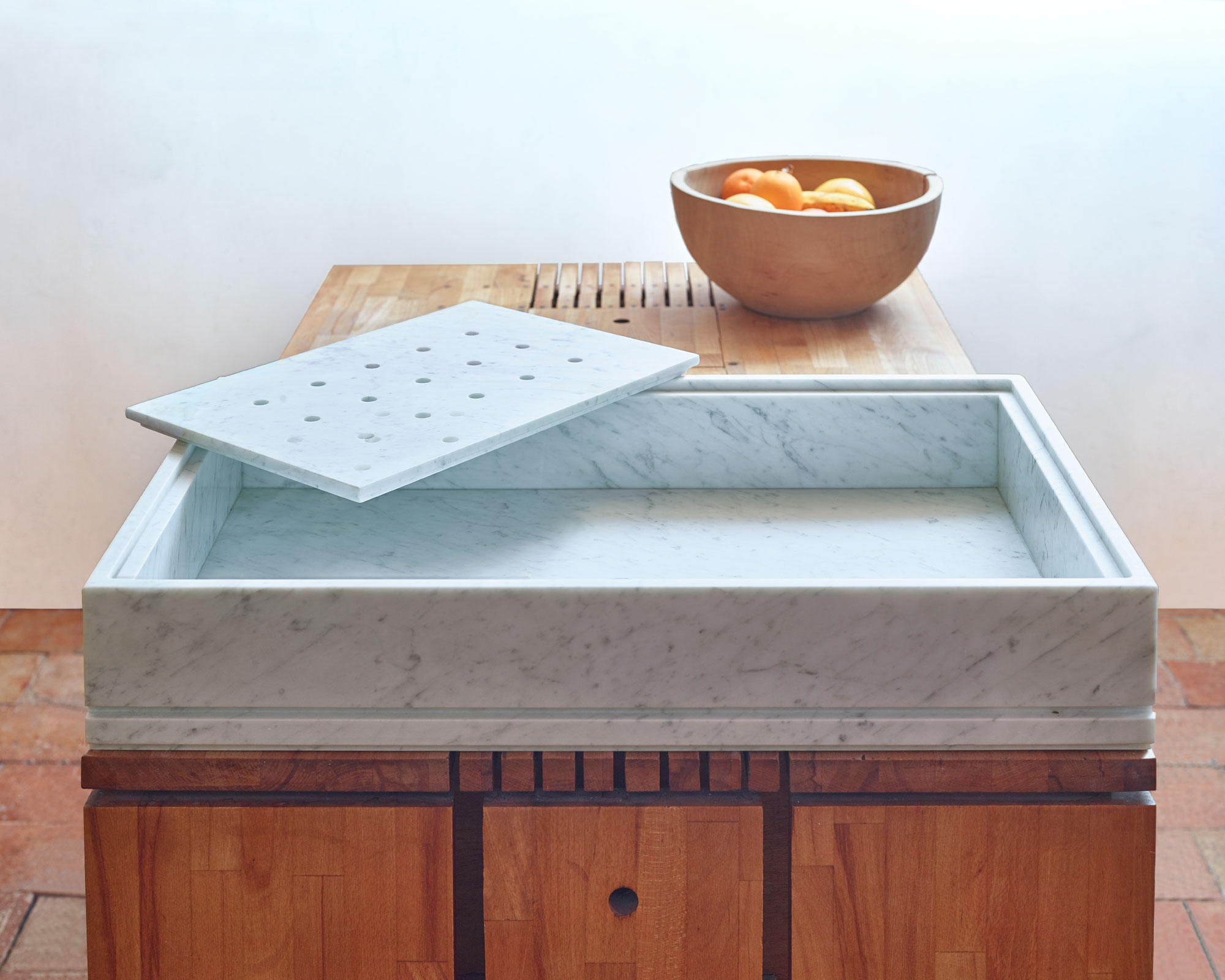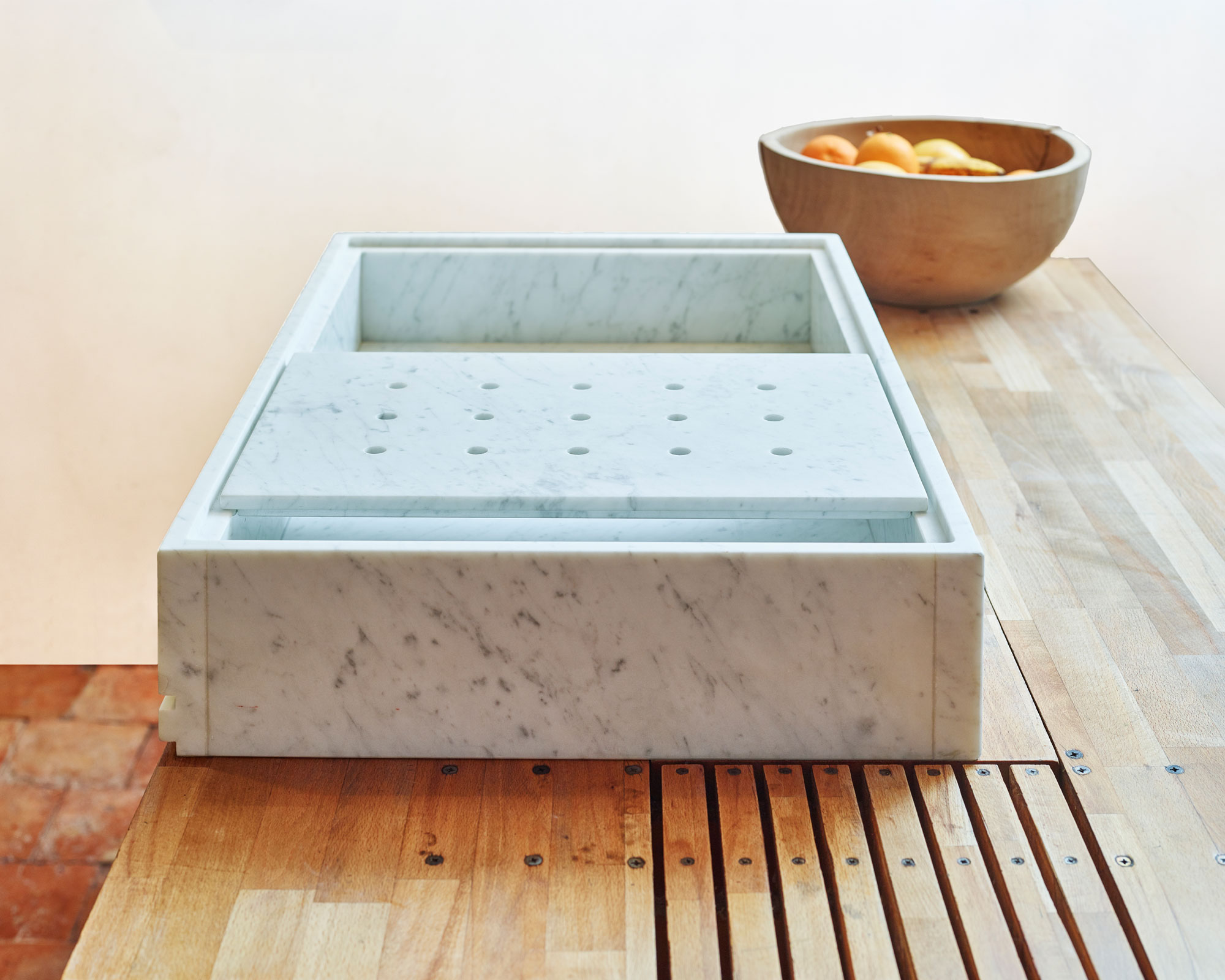 Like hotplates, the sink is at the heart of any kitchen. It represents the "water" element, complementary to the "fire" element which helps us prepare all types of food. It was in this mindset that "Vessel" came into existence. It is a piece of furniture to place on a kitchen work surface or central island unit to make practicality very enjoyable and pleasant to look at. Its shape stems from large stone sinks of the past. The idea of the sliding drainer provides solutions for everyday problems and it also becomes a mat to place under a serving dish while using the marble sink to :
Wash dishes, rinse fruit and vegetables,

Put a dish down,

Drain utensils and cutlery cleanly.
The kitchen has become a preferred living room, an area where we welcome, live, chat around the table over a meal, seated around or facing the sink, this magical source from which water gushes, as well as discussions that bond family and friends. Carrare marble discreetly brings a touch of timeless stone to the clean-cut design that matches well the other materials we find in the layout of the kitchen.
This sink in a smaller size can also be used in a bathroom, as a washbasin and to place creams, a glass and toothbrushes without dirtying the surface surrounding the washbasin thanks to its movable drainer. On request, it is possible to carry out a study for this type of project.
It is recommended to remove dust regularly with a soft cloth for the marble. This is a last-forever product for usage consistent with its normal use. Never use cleaning products unsuitable for natural, living materials such as stone. All types of detergent are to be ruled out. Only clean water and gentle products such as natural soap and organic washing-up liquids are to be used for cleaning. Wipe after use to avoid limescale marks if the water is not filtered.

Material :
Carrare white marble, softened finish
Measurements of the sink :
length 80 cm - width 50 cm - width of the edges 30 mm
Perforated, removable drainer :
length 46 cm - width 31 cm - thickness: 20mm
Customisable option in another type of stone, following a study
Inlay of mosaic is possible
Other sizes possible, following a study
Design registered by : PY-MANUFACTURE